I love to shop, it is something I could do every day & never get sick of. That being said, I shop to find something that both fits & looks good. A girl needs to feel good about herself, right? Am I right?
I have to admit though, I am not really a girl that digs all the newest fads or the latest trends. Don't get me wrong, I do love to be in style, but I also don't like to buy trends that I know will be out of style before I have gotten them home & out of the bag.
I am most comfortable in Blue Jeans & a T-shirt!
Preferably

solid color...

preferably

black
I love a good fitting pair of jeans. Not Mom Jeans...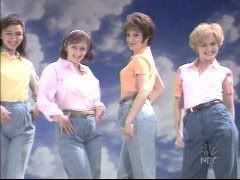 but comfortable trendy jeans. My favorite jeans right now are the Curvy Low rise Gap Jeans. Can you say "Style & Comfort?" I know you can, so repeat after me...
"Style & Comfort!"
Good Job!
While shopping the other day with the girls I about had a heart attack, they are bringing back Neon Colors. It is everywhere. Are you kidding me? That was the worst fashion
faux
pas this girl has ever made...well except wearing black tights with red dress shoes. No wait that was my friend.
*Phew*
Anyways, my oldest daughter was drawn to all the
BRIGHT
Neon Colors...like a moth to a flame. I kept turning her away & pointing in a different direction. Call me snooty, but all I could think was that I made that mistake once in my life & I would not make it again...even if I wasn't going to be the one wearing the NEON. That was one of those fashion fads I just had to have, but was out of style before I opened the last Neon outfit under the Christmas Tree.
*sniff, sniff*
There are some things that should not be relived. Like the fact that I had a Celebrity Crush on Sylvester Stallone.
Yo Adrian...What was I thinking?
So what was your biggest Fashion
Faux
pas?
Who was your worst Celebrity Crush?