Last time on Five Mom's and a Blog, Nan was talking about having a sickness and it's sad to say but I have one of my own. I like to refer to it as the crafting bug.
This is what it looks like.
Lately, it's gotten bad, not because my house is oozing with creativity.
I wish that were the case!!!
It's more in my brain and in my computer, evidenced by all the saved files. Every time I see a neat little project, I snatch it away and put in my crafty little crafting file, where they'll be saved for all eternity. It is a sickness cause I just can't seem to stop doing it. And there just can't be anything right about owning a sewing machine for several years now, loving it like it were a child of my own, all the while never having threaded it's needle. It's sad :o( I know and I'm sure the mere thought just sickens you sewing goddesses. But the reality is this - I'm a BIG SCARTY-CAT! I'm too afraid of hurting it, so I just let it sit in solitary confinement. It's for it's own good. Where's Martha Stewart when you need her???? not here :o(
I don't have proof, but believe me, the projects are there. My computer can attest to it.
Ever since I could remember, I've always enjoyed making things and have always wanted to own a boutique shop in a quaint little town. Oh man, the possibilities would be endless. Everything would be homemade with love. Awwwww.....
Maybe it could look something like this.
OR THIS!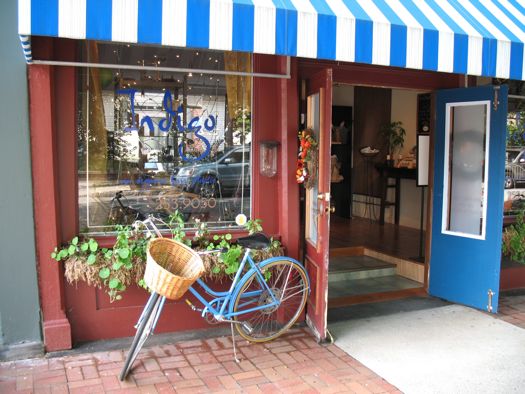 Or how about something pretty in pink?
Or maybe I should open my own little Esty shop?
The thought has crossed my mind MANY a times. Like I said, crafting is a sickness. So, what's the remedy? Maybe I just need a place where my brain can have a little piece of mind and my creative juices are welcomed with opened arms.
Have you ever wanted something so bad?
Stay tuned. Maybe sometime in the future I'll have a GRAND OPENING to announce.
Future owner of Miti Homemade
(in my dreams)